.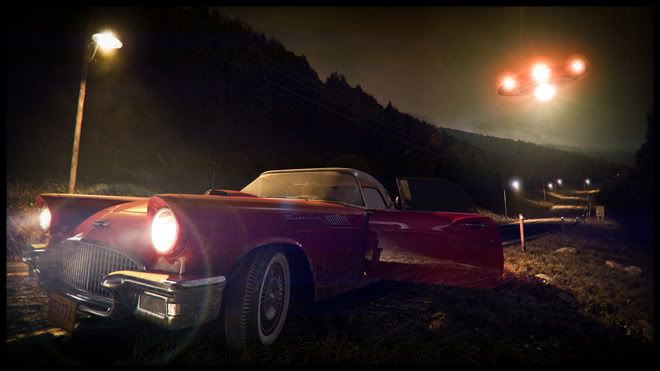 Ho fatto questa immagine per un contest dal titolo "Night Lights".
Le luci notturne della mia immagine sono quelle di un ufo che percorre silenziosamente una strada fuori mano. L'opera vorrebbe rappresentare un rapimento alieno appena consumato. Il guidatore, una volta avvistato l'ufo, accosta la vettura e scende, ma un attimo dopo che l'ufo è passato sopra la sua testa, l'uomo non c'è più. Volevo un rapimento silenzioso, senza testimoni. Proprio per dare una sensazione di normalità, rotta solo dall'ufo e dalla macchina vuota, ho dato alla strada e agli alberi un aspetto ordinario, non spaventoso. L'intera scena doveva essere malinconica piuttosto che paurosa. Immagino il ritrovamento dell'auto il mattino seguente: i fari spenti per la batteria ormai scarica e nessuna spiegazione su dove sia finito il proprietario…
Tutto è stato fatto con Cinema 4d, dalla modellazione al rendering. Ho usato mograph per disporre alberi (piani mappati) e sassi e hair per l'erba. Fumi e nebbie sono tutti stati fatti direttamente in 3d con luci volumetriche. Gli interventi in post sono limitati alla color e a piccoli ritocchi.
(in english) I made this image for an Italian contest called "Night Lights".
The night lights of my image are those of an ufo, silently flying above a country road. The piece would represent a just happened alien abduction. When the driver sees the ufo, he stops the car and gets out, but just one moment after the ufo flies over his head, the man is gone.
I wanted a silent adbuction, no witnesses. To give a feeling of normality, only broken by the ufo and the empty car, the road and the trees have an ordinary look, not scary. The whole scene should be melancholic, rather than frightening. I imagine the car retrieval, the next morning: headlights shut off, battery dead and no clues about the driver…
All has been made in Cinema 4d, from modeling to rendering. I used mograph for trees (mapped planes) and rocks, and hair for grass. Smokes and fogs are volumetric lights. Post production is limited to color correction and little retouches.
Making of
Treddi | Making of Gone (in Italian)
Awards & Mentions
Cg Arena | Excellence Award
C4Des | Imagen de la semana (Image of the week)
C4D Lounge | Best of the Best Gallery
C4D Zone
| Foto del mese (Image of the month)
C4D Zone | Premium Gallery
Solo3d | Picture of the Day
Categories:
3d Scenes
,
abduction
,
Cinema 4d
,
Thunderbird
,
UFO
|
3 comments
Work Experience
December 2009 - Today
(2 year 6 month)
Direct2Brain
(Latina/Rome)
3d Modeler | Texture Artist | Generalist
October 2009 - November 2009
(2 month)
Non Solo Cartoons
(Rome)
Texture Artist


Categories

Friends